T1W9
9/3/14
Source:
http://bleacherreport.com/articles/1985669-arsenal-vs-everton-ruthless-gunners-set-for-wembley-return
What I did:
I went to read up on my favorite football team's most recent game. Arsenal (the team I support) played Everton on 8/3/14 in an FA cup quarter-final match. They beat the opponents 4-1 and secured a place in the FA cup semi-finals.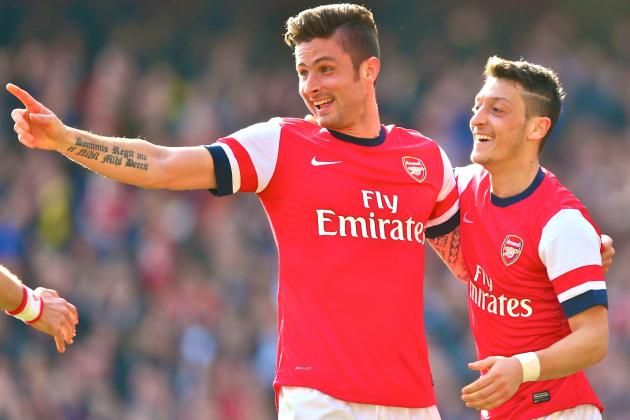 Arsenal players Olivier Giroud (left) and Mesut Ozil (right) celebrating they're goal.
What I learnt:
Summary:
Arsenal, after losing to Stoke last weekend, played with a much better spirit and urgency. Perhaps the players felt that with title hopes slipping, the FA cup would be they're best option for silverware this season. They started off strong with Mesut Ozil scoring at the 7th minute, putting Arsenal infront. They went into half-time 1-1 though.
Arsenal later proved they're worth in the second-half when Mikel Arteta shot in a superb penalty in the 68th minute to put Arsenal 1 up again. Olivier Giroud, who came on as a substitute after much drama from his social life, scored 2 more to help Arsenal proceed to the semi-finals.